Protected Areas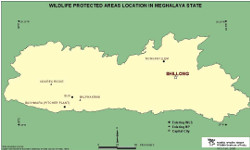 The protected area network in Meghalaya occupies 1133.9 Sq Km area which constitute about 5.06 % of the State's Geographical Area. The Protected Area Network includes 2 national Parks, 4 wildlife Sanctuaries and 1 Biosphere Reserve playing an important role in in-situ conservation of Biodiversity.
The PA Networks still support viable population of the Endangered Western Hoolock Gibbon, the Bengal Slow Loris (Vulnerable) on the other hand is patchily distributed. Primates include Stumped tail macaque, Assamese Macaque, Northern Pig tail Macaque, Rhesus macaque, capped langur and the blond bellied langur. Among the carnivores the Bengal Tiger and the Clouded Leopard have become extremely rare while the adaptable leopard is still widely distributed. Bears include Sun Bear, Asiatic Black Bear and the sloth bear. Smaller cats like the jungle cat, marbled cat leopard cat are still found in these PAs. Smaller carnivores are also abound, among them mongoose, badger, binturong, dhole, jackle, weasel, otter, fox and marten.
Nokrek Ridge National Park is the core of the Nokrek Biosphere Reserve and is located on the Tura Mountain Range. Nokrek Peak (1418 m Asl) is the tallest in the range. Nokrek National Park covers an area of 47.48 Sq Km. The buffer zone is about 227.92 Sq Km and the transition zone is about 544.60 Sq Km. In the buffer zone is located the first gene sanctuary set up to preserve the rare citrus; Citrus indica, commonly known to the locals as Memang Narang.
The Indian elephant Elephas maximus population in Meghalaya is 1181 in 2007. The Garo Hills Elephant Reserve covers a total area of 3500 Sq Km which includes 402 Sq Km of Protected Area sustaining a population of about 1047 elephants according to the Elephant Task Force Report of MoEF, August 2010.
Protected Areas in Meghalaya
| Protected Areas | Area in Sq. Km | District | Estd. |
| --- | --- | --- | --- |
| Siju Wildlife Sanctuary | 5.81 | South Garo Hills | 1979 |
| Nongkhyllem Wildlife Sanctuary | 29 | Ri-Bhoi District | 1981 |
| Baghmara Pitcher Plant Sancturay | 0.02 | South Garo Hills | 1984 |
| Balpakram National Park | 220 | South Garo Hills | 1985 |
| Nokrek Ridge National Park | 47.78 | East Garo Hills | 1986 |
| Nokrek Biosphere Reserve | 820 | East, West and South Garo Hills | 1988 |
| Narpuh Wildlife Sanctuary | 59.90 | East Jaintia Hills | 2014 |